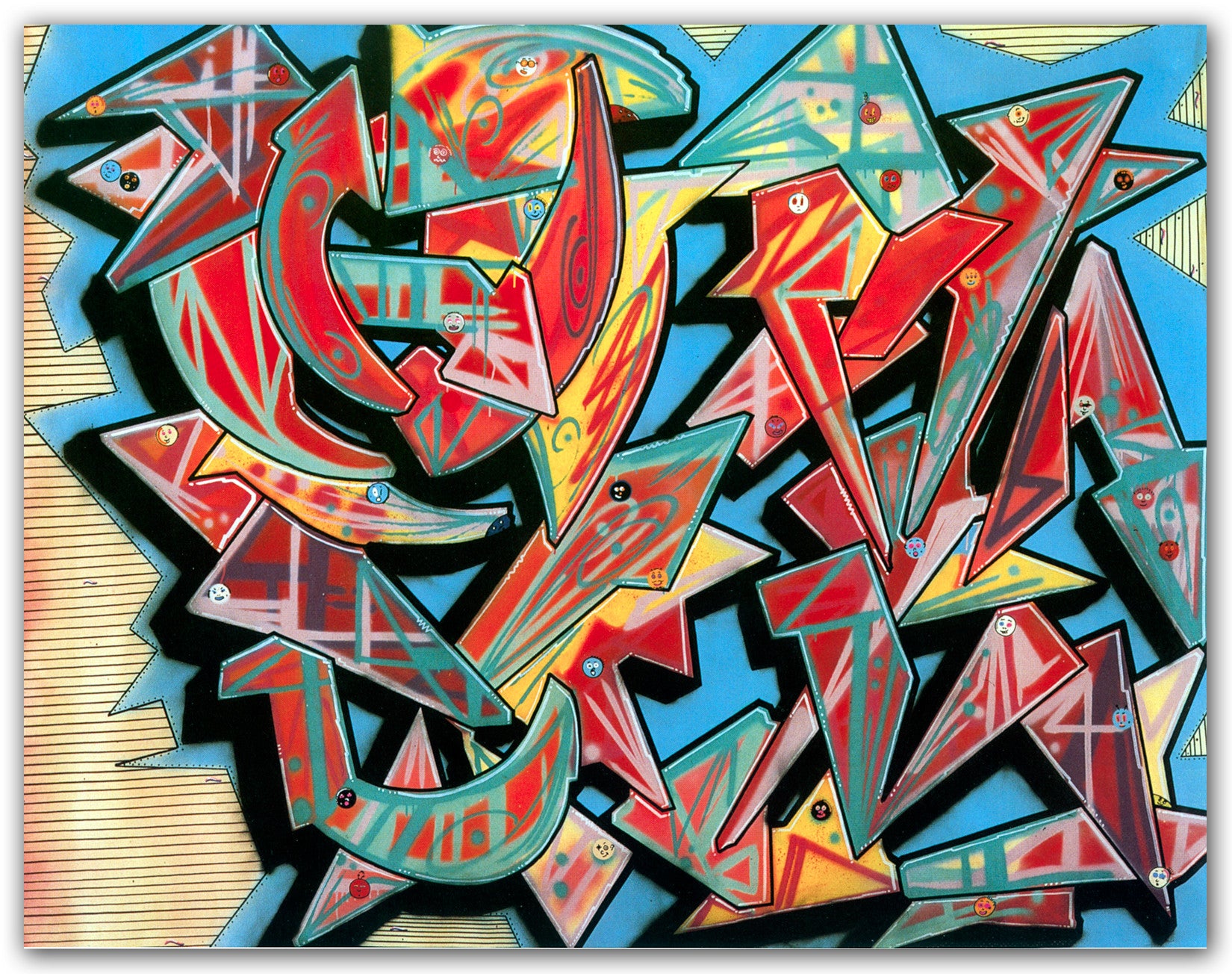 QUIK/BLADE - "Christal Images" Collaborative Painting 1992
QUIK/BLADE - "Christal Images" Collaborative Painting. 1992. Spray paint and Marker on Canvas. Measures 69" x 84" inches. (175cm x 215cm).
From  the Ex Collection of Henke Pijnenburg.
Lin 'QUIK' Felton is a painter of African American descent born in Queens, NY 1958. QUIK as a subway graffiti painter was recognized for his satirical and arrogant comic imagery, as well as the ability to post his tag and masterpieces upon each subway line numbering in the thousands.
After studying 3 years at PRATT Institute and PARSONS School of Design, QUIK was recognized by Yaki Kornblit, a renowned Amsterdam art dealer in 1982 via the efforts of FUTURA 2000 and the momentum created by the SOUL ARTISTS painting association. Despite dabbling and attempting a career with the computer giant IBM, QUIK had found his calling in the creative arts rather than the financial accounting required to proliferate nuclear weapons and strengthen the American Defense Department.
Following a successful introduction into the art world via Holland's tremendous support, QUIK eschewed the USA for the most part finding Europe's admirable attempts for racial and social equality more to his liking. The racial tensions and social inequalities present within the United States is a recurrent and raging theme in QUIK's work. When asked in regard to his thematic development and professional career now in it's fourth decade, QUIK simply replies, "I paint sounds, I paint the Blues."
The Blues is not all QUIK paints, as one can revel in his cynical juxtaposition of cartoon characters; romantic and brooding pinup girls and naturally the graffiti lettering that has now made him world famous after participating in hundreds of museum and gallery exhibitions. To balance his relentless energies in the commercial art world QUIK has a respected notoriety for working alongside and instructing high school and university students throughout western Europe.
QUIK's work can be found listed within the archives of the Studio Museum of Harlem; The Museum of the City of New York; the Groninger Museum in the Netherlands and several other distinguished collections .
BLADE - "Blade",  Acrylic Spray and Paint Markers on ParisTransit Map.  Measures 15"x 25.5".   2012. 
King Master visionary! Blade is more than a graffiti artist. A remarkable pivotal figure in the history of graffiti Blade's successes as a graffiti artist are myriad.Blade's artwork has been extensively collected & exhibited for over 25years & has participated in over 75 select solo group gallery exhibitions throughout the world! Blade has also been involved in in numerous symposiums, appeared in hundreds of articles, television features, magazine/ journal publications & catalogues. 
At the forefront of the subway graffiti art movement in the early 70s, Blade's work is not only recognized as significantly influential, but his lengthy career as a professional artist has warranted worldwide notoriety & fame. Painting over 5000 trains & evolving to new levels of subway & canvas graffiti Blade has had exhibitions at the Whitney museum(2000) Cleveland's Rock n Roll Hall of Fame (2000) A 1991 show at The Musse National De Monuments Francais (Paris France) numerous shows at the Groniger Museum, and dozens of shows in Europe & Asia.On October 28,1994,Blade was invited to the Groniger museum to meet the Queen of England, as she was attending the prestigious institustion's re-opening. 
.
.
Shipping in not included and will be quoted after receiving shipping info as paintings may be stretched and need to be crated and shipped. Payments by Wire are preferred with quoted funds for shipping.
About the Artist
QUIK/BLADE