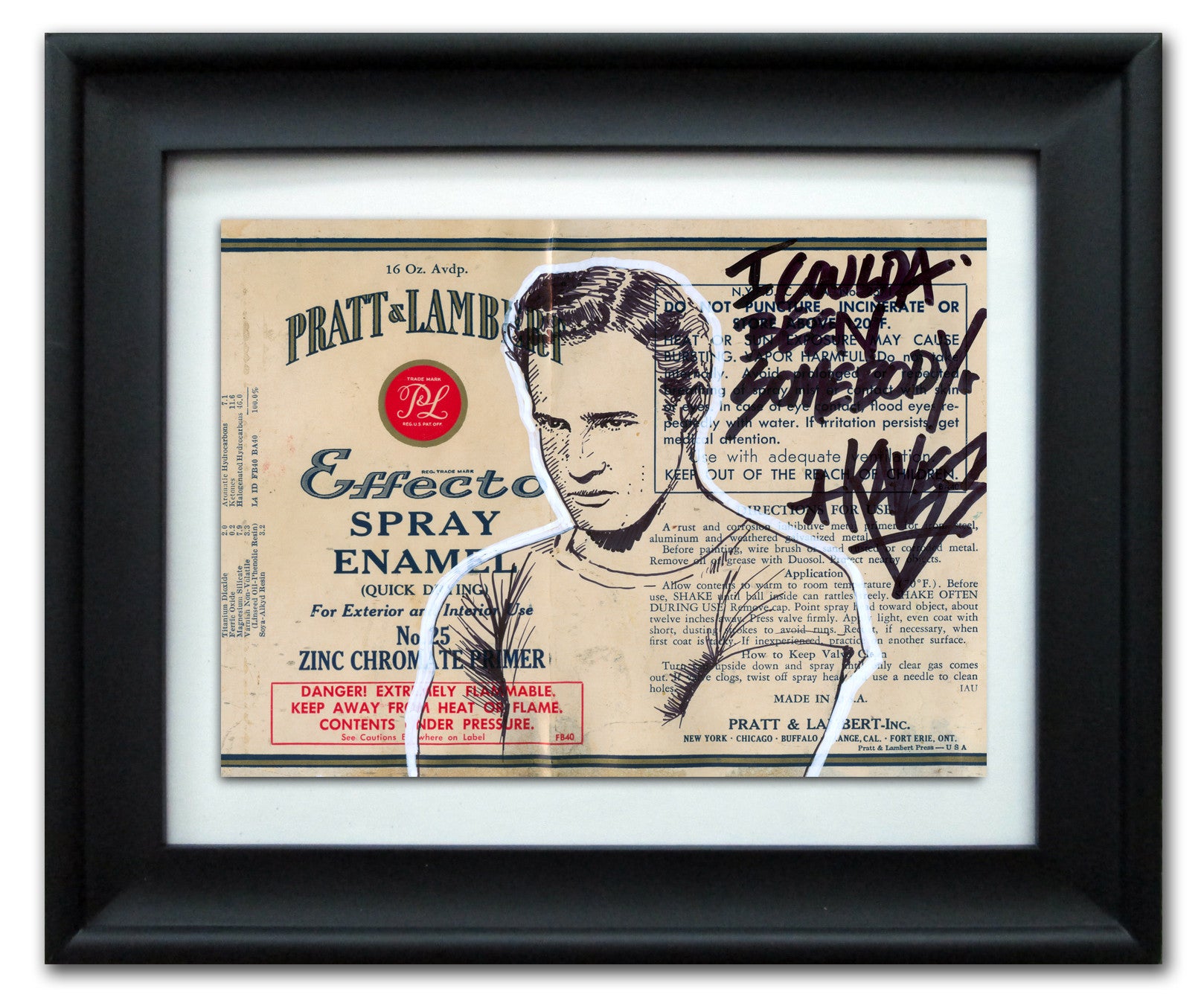 KAVES - "Pratt & Lambert" Vintage Label
KAVES - "Pratt & Lambert. Original Paint marker & Mixed Media on a vintage paper label off a can of Pratt & Lambert co Spray Paint. Framed in artists frame.  Framed size measures 12 x 10".
Michael McLeer a/k/a Mr. Kaves' life up to this point represents all that is amazing, albeit tumultuous about growing up in Brooklyn, NY
.  Rising from a loving, yet chaotic family life, Kaves began flexing his artistic urges in the tunnels of the NYC transit system at the ridiculously young age of 10.

  

While these endeavors eventually secured him a spot in the graffiti hall-of-fame, they also made him more than comfortably familiar amongst the NYPD Vandal Squad.
Realizing that his creativity could be applied in a more productive (legal) manner, Kaves utilized his boundless energy and well-oiled savvy to knock down the doors of several major brands to become their go-to street artist and trend forecaster.  Kaves has designed exclusive visuals and the likes of Georges Duboeuf 
for whom he created the label for 2011 Beaujolais Nouveau, Jaguar, NIKE, Rockstar Games, WWE, PONY, MTV, ADIDAS
, Van's Warped Tour and many others.  Kaves has also designed logos and graphics for world-renowned artists such as the Beastie Boys and 

House of Pain's

 Everlast.

 
His images have been published in books including Henry Chalfant's pioneering 1984 chronicle SprayCan Art, Burning New York, Mascots & Mugs: The Characters and Cartoons of Subway Graffiti, Fresh Paint NYC, Graffiti Planet 2 and Piecebook: The Secret Drawings of Graffiti Writers.

  

Kaves' paintings have been shown everywhere from the MTV Real World Brooklyn loft, as well as, the Gunter Sachs Museum of Fine Arts in Germany, The Blackstone Hotel in Chicago, Illinois and the Rock and Roll Hall of Fame in Cleveland, Ohio.

  

His first-ever New York City solo show during the summer of 2011 at the Hionas Gallery garnered overwhelming critical acclaim and saw collectors clamoring for works by the former "vandal."

  

Most recently Kaves created an original painting for Metallica's 
Obey Your Master
 exhibit.

  

He is one of only 30 artists chosen to represent the band's lyrics for this groundbreaking show.
Another huge piece of Mr. Kaves' life has been spent as a rap pioneer.  His hip-hop group formed in the early 90′s, Lordz of Brooklyn, left an indelible mark on the music business worldwide for over a decade.

  

From the music came an opportunity to showcase Mr. Kaves and his family's life in the form of the The Brooklyn Way
, a multi-episode docu-series which aired on Fuse TV.  The show incited a remarkable regional groundswell during its first season on Madison Square Garden's MSG Network and was then picked up by Fuse for national distribution.  As a result of the TV show and continued hard work by Kaves and the Lordz of Brooklyn, their music has been heard recently on The Ellen DeGeneres Show, Good Day New York, New York Knicks, Rangers,
 Giants and Mets games, CBS TV's CSI: New York, MTV's The Real World, The U.S. Open and LOB even turned in a blinding performance on NBC's Late Night with Conan O'Brien.
Mr. Kaves also holds the title of co-creator and producer of the JAM Awards - a tribute concert and award show benefiting the Jam Master Jay Foundation for Music, which raises money for public school music programs in the name of slain RUN DMC DJ Jam Master Jay. The event is sponsored by Adidas and Current TV among others. Previous performers included Snoop Dogg, Everlast, DMC, LL Cool Jay, Mobb Deep, De La Soul and others.
Mr. Kaves owns and operates a successful boutique tattoo parlor in the very Bay Ridge neighborhood he's always called home under the name Brooklyn Made Tattoo which also serves as the hub for his numerous creative endeavors
About the Artist
KAVES