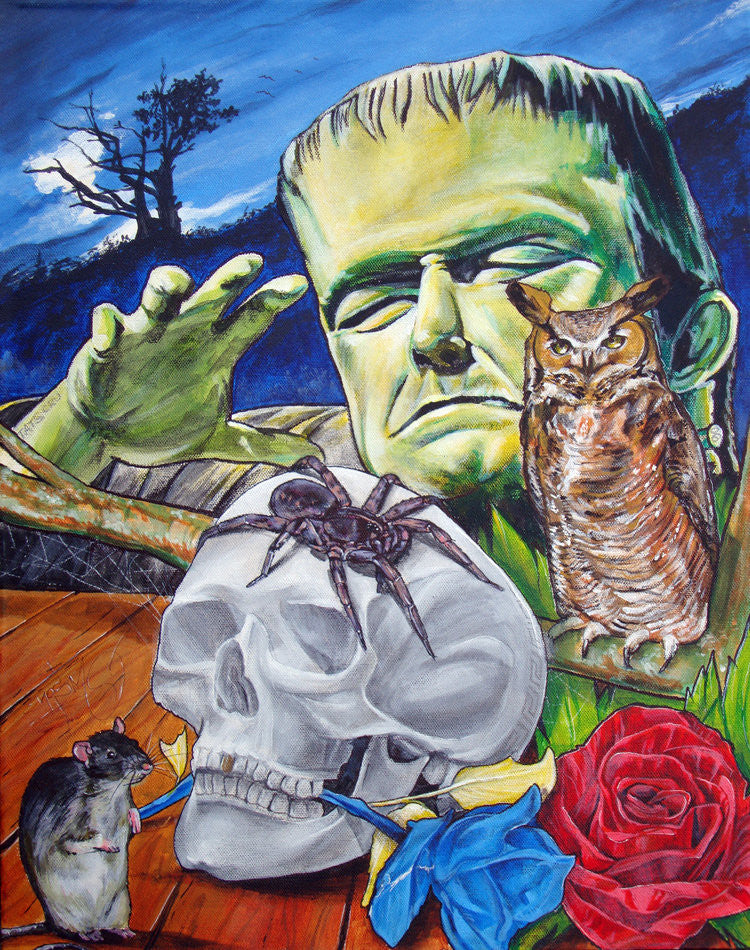 HOW & NOSM - "Frankenskull"
HOW & NOSM – Titled "Frankenskull". Measures 16×20 inches and accomplished with spraypaint, acrylic and markers on canvas.
Signed and dated verso from 2007.
"HOW AND NOSM"
(RAOUL AND DAVIDE PERRE)
The twin brothers HOW and NOSM are graffiti artists and professional muralists residing in New York. Born in the Basque country of San Sebastian, Spain, the Perre brothers grew up in Düsseldorf, Germany practicing the Bronx-born art form of graffiti. Their late teenage years were spent spray painting the world, visiting many of the more than 50 countries in which they both left their remarkable artwork on any kind of surface including subway trains. During a visit to New York in '97 HOW and NOSM were asked to become members of the legendary TATS CRU, and permanently relocated to New York shortly thereafter in '99 – a move that marked their transition from painting on trains, and even the Berlin Wall – to creating elaborate murals for a number of known commercial clients such as SONY.
As members of TATS CRU, the Perre twins have lectured at universities including M.I.T. and their work has appeared in numerous films, music videos, documentaries, and most recently, the windows of the historic department store, Lord and Taylor.
HOW and NOSM have been featured within the pages of numerous publications, including the New York Times and the New Yorker, and even stirred the likes of the Rev. Al Sharpton with the controversial undertones of subjects manifested within their art. As adept with a spray can as only few artists could ever hope to be with a brush, and best known for their medium, Perre's body of work includes everything from skateboards and collectable toys to large scale multimedia sculpture – and for that matter, anything they can get their hands on.
About the Artist
How & Nosm