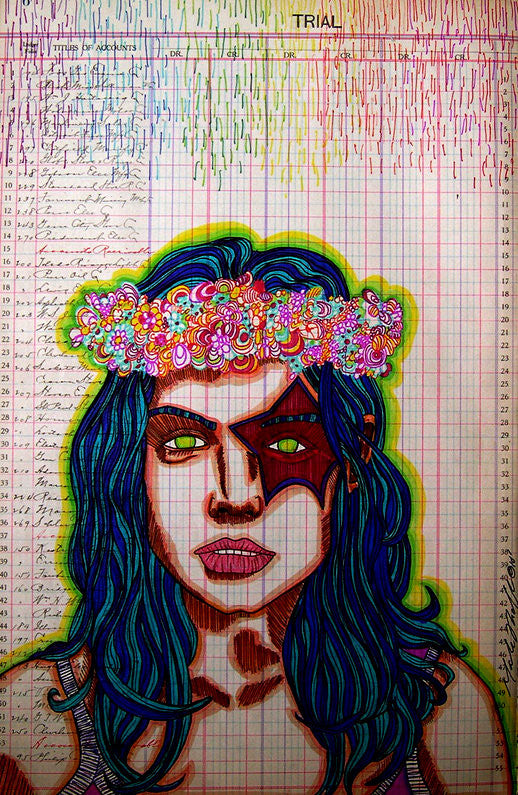 GABRIEL SHAFFER - "Hold Tight To The Star"
GABRIEL SHAFFER - Titled "Jackie Astro", Size measures 11x14. Mixed media on salvaged paper.
The son of renowned folk/visionary artist Cher Shaffer, Gabriel was raised within the self taught medium and had contact with many folk and outsider artists as a young boy. Always creative, he spent much of his early youth drawing, painting, writing poetry and prose. 
From the ages of 18-27, he focused heavily on writing hundreds of poems and short stories ,while performing in a few bands at such notable events as South By Southwest, Austin,TX and Around The Coyote Festival, Chicago,IL. In June, 2002,At the age of 27, in a deep depression, Shaffer had an epiphany while experimenting with painting. He has since focused solely on visual art. Gabriel first sold his earliest works In January 2004. Since, he has already exhibited in over 80 shows and sold hundreds of works of art to collectors, rock stars, celebrities, politicians, best selling authors, galleries and museums. 
Also appearing in dozens of magazines, newspapers and blogs such as Raw Vision, Art Papers,Traditional Home,Architectural Digest,NY Arts Magazine,The Huffington Post,An Nahar(Beruit, Lebanons most prestigious newspaper),US Airways Magazine,Cafe Royal and Juxtapoz. In 2009 Gabriel was voted western North Carolinas #1 visual artist for the Best of WNC awards,in the Mountain Xpress newspaper.
About the Artist
Gabriel Shaffer