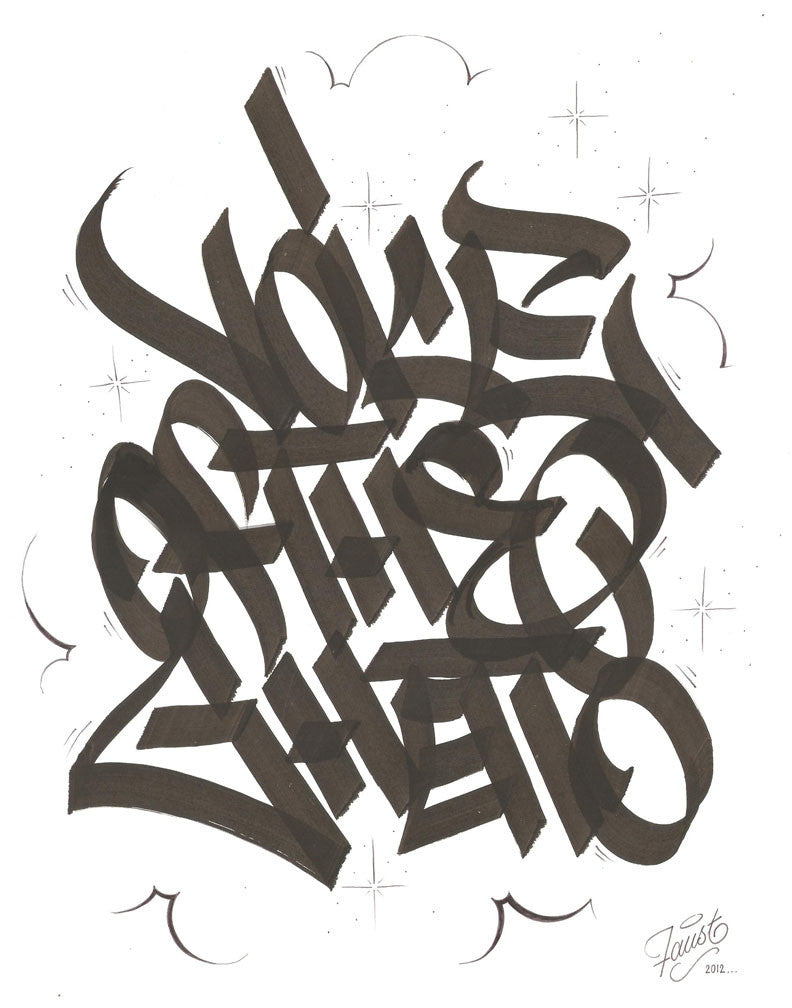 FAUST - "Voice of The Ghetto"
FAUST - "Voice of The Ghetto". Ink on paper. Measures 11x14. Signed lower right.
Gordon Wayne Roberts created the tag Stay High 149, combined it with a smoking, halo-adorned stick man he borrowed from The Saint television show and changed the face of graffiti.  It's hard to imagine a trip through the subway system in early 70's without seeing his name a dozen times. Changing to his secondary alias, voice of the ghetto, around 1974 , ,he introduced the world to two and three toned markers that spewed rainbows of psychedelic cool. After a 25 year disappearance , a time during which many assumed him dead, he reappeared at a graff show in 2000 and soon launched a comeback that gave a new generation a chance to know and love his work. His tags had the rarest combination of style and meaning I've ever witnessed . High Maintenance is about paying back one of the most inspirational , yet humble cats to ever wield a marker. His spirit and legacy has touched every era of a culture that's blown up world wide. The artists who so generously donated their work for this benefit are giving their collective thanks to a man who transcended graffiti culture and in time be remembered as an American Folk Hero. All net proceeds from this sale will go to Stayhigh's Family.
Amongst all the amateur scribbling and indecipherable hieroglyphics that make up the average taggers landscape, a skilled hand at penmanship is a rarity. New York City based artist Faust, is best known for his impeccable calligraphy skills, which draw heavily on a graffiti aesthetic, and then lean toward design in their clean lines and solid blacks. 
A long time graffiti writer and a self-professed traditional lettering purist, Faust's ethos bases itself in the idea that a graffiti writer needn't change his style of artwork to be a legitimized fine artist: the letters are enough. In fact, the artist says, one needn't even venture into piecing, or working in color to find the art. After many years bowing to graffitis rules, Faust decided to buck them, and expand his tag as his artform, taking it as large as possible, covering entire rooms with one tag. 
As Faust, the artist continues to work towards a career in the fine arts, but also does commercial calligraphy work for hire, collaborating with advertising companies on branding campaigns, as well as motion graphics companies, perpetually striving to discombobulate the notion of what is accepted as "graffiti" vs "fine art". 
Under his real name, Faust is a prolific oil painter with an active studio practice, but he works hard to keep these two worlds separated. 
About the Artist
Faust