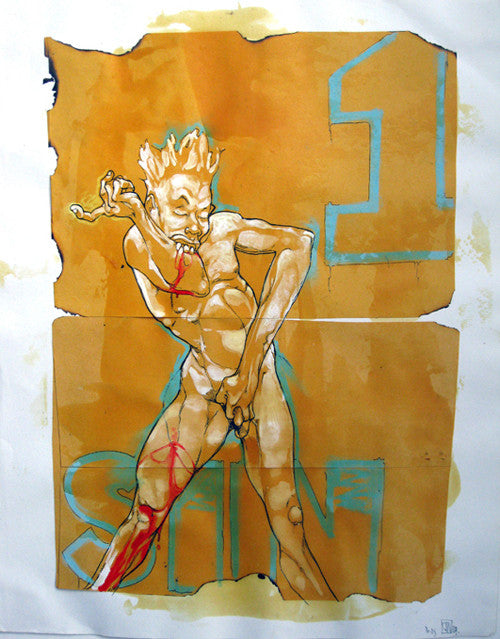 About the Artist
EZO
EZO - 
Writing graffiti since 1979, EZO has exhibited in such diverse Art Space's such as the Sidney Janis gallery, The Lyon Biennial, ART BASEL, Black in white in color gallery and the Frick Museum to name a few since 1983.
He recently Curated the Exhibition: GRAFFITI; Spirit of an age 40x 10 at the Longwood arts Gallery.
He began his first comic strip in the Seminal Latino Culture Magazine LATIN NEW YORK magazine in 1984 calledGRAFFITI TALES. He reenergized and reorganized the Graffiti Hall of Fame in Spanish Harlem to its former glory by painting the entire location at once by enlisting the TopNYC Train Era Artists from Stan 153 to Seen to Tats Cru and 30 other artists something not done since it's inception in 1982. He curated from 1996 – 2000 when it counted. He founded one of the first Internet graffiti directories in 1997 The GSpot Colab.com, which is now defunct and founded and ran the gallery of the same name in East Harlem from 1999-2004.
In 2004 EZO began his new irreverent Strip "THE PUBLIC A" which ran monthly in MASS APPEAL MAGAZINE until 2006, in 2006 he began THE 10,000 day man in ANIMAL NY Magazine. EZO has been making Graffiti and Art in general for 30 years. He has lent his street sensibilities and unique visual styling to such clients as Method Man, Busta Rhymes, Red Man, Fat Joe, Kool G Rap, Mtv2, Channel 47,llewylyn Books as well as the Motion Pictures " PINERO", The Orphan King and MY BROTHER…. and is rumored to still Bomb.