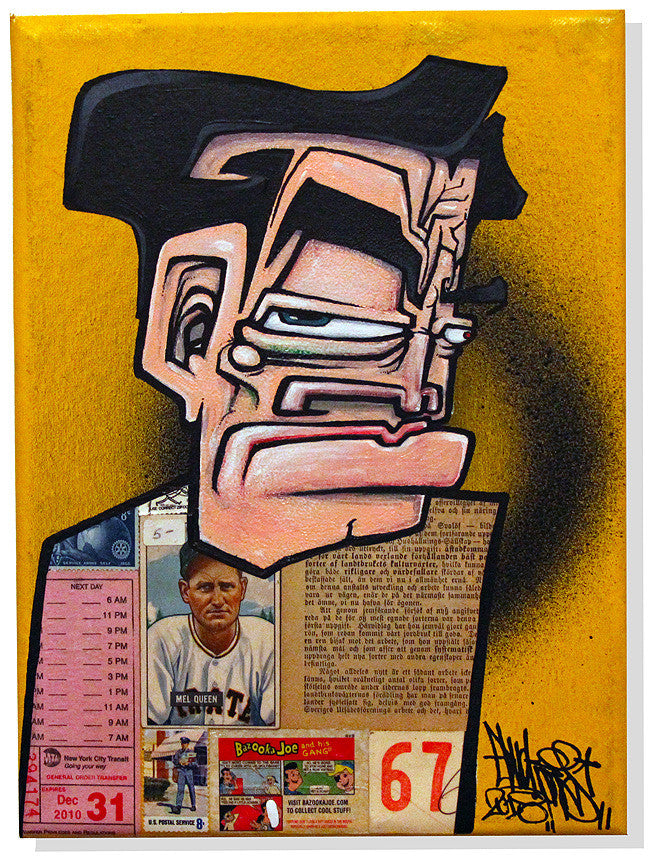 About the Artist
EWOK 5MH
An adventurous and only child born in New Jersey in 1976. Relocated in 1979 with his single, hardworking mother to upstate New York (The Catskills/Hudson Valley) where he was raised and again relocated in the Fall of 1996 as a young adult to Brooklyn. In pursuit of furthering his art education, his portfolio was reviewed at a cafeteria lunch table at Pratt Institute. After enrolling, he was trained in Color, Anatomy, Drawing, Painting, History, and Philosophy over the next 4 years. In 2000, he received his Bachelors Degree in Traditional Hand Drawn Animation. This particular academic focus would prove to play a pivotal role in the development of his unique "cartoony" caricature style he is most recognized for today. His work can be found showcased on the covers of many culturally significant books, like 'Graffiti New York' by Eric Felisbret, and 'NYC Graffiti, The Next Stage' by Rico Nose. His work has graced the covers of and has been featured in more than a 100 magazines and books worldwide.
Among his accolades, by no means has he been given an easy path to where he is today. Along his journey, he's had to make some hard sacrifices at the expense of his own freedom and personal relationships. Today, Mr. Ewokone has become a household name and a representational embodiment of his generation. A 90s era Graffiti Vandal continuing on his path to become a professional illustrator and a globally sought-after fine artist whose paintings fetch anywhere in the 10s of thousands of dollars. He is a proud bi-product of New York City and the East Coast that raised him. He's been very fortunate to travel the globe over the last 25 years pursuing his goals and ambitions through the vehicle of artistic expression.
In 2014, he lives and creates out of a studio apartment in Brooklyn New York, where he continues on his journey embracing the unknown and welcoming the unfamiliar, along with his intern/side kick, the now infamous Lt. Shiny Sides.