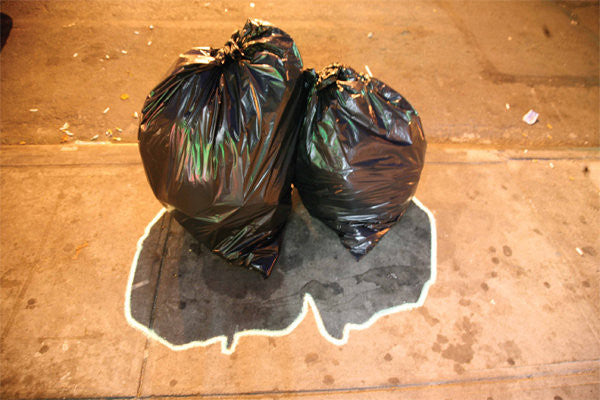 ELLIS G. - Bags
Ellis G. Titled "Bags" Archival Pigment print
on photograph paper. Size 18×24, Edition of 3. Signed and dated verso.
Ellis Gallagher's shadow chalk drawings, executed in both urban and interior settings, seek to enhance the beauty of everyday objects and mundane situations that are routinely overlooked. Chalk drawings of bicycles, fire hydrants, milk crates, signage, shopping carts, fences, plants, and trees inspire curiosity and encourage the viewer to pause, observe, initiate conversation and experience their surroundings with a renewed sense of optimism.
Ellis Gallagher is a native New Yorker. As a former graffiti writer, his work can be found in New York City and beyond, in Autograf: New York City's Graffiti Writers by Peter Sutherland (Powerhouse Books), as well as in numerous newspapers, magazines, on television and in films. Currently a Contemporary/Street Artist known as ©ELLIS G., Gallagher's work has appeared on the cover of numerous publications and features
CLICK ON IMAGE TO ENLARGE
About the Artist
ELLIS G.