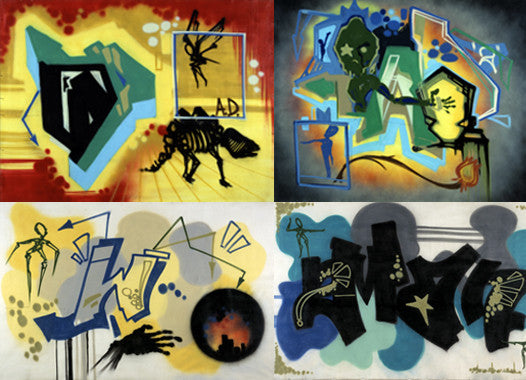 DONDI WHITE - "Print Set of 4"
DONDI WHITE - "Print Set of 4" Includes. "A World of Power","Born Again", "United States of Graffiti", "The Aftermath".
These Dondi White Prints, taken from four rarely seen canvases painted by Dondi White, the "Style Master General". The Dondi White Prints come in a 4 piece 20"x 24" set. Each set is masterfully printed on Archival Somerset watercolor paper; packaged in a handsome 24" clear tube, with the official Dondi White logo emblazoned on the outside. Also enclosed with each set is a six-page collector's brochure with color photos of each print and a list of galleries throughout the world where Dondi White exhibited. This four-piece exclusive collector's set will be offered only one time in a printing of 100 sets, numbered and embossed with the seal of authenticity .
About the Artist
Dondi White