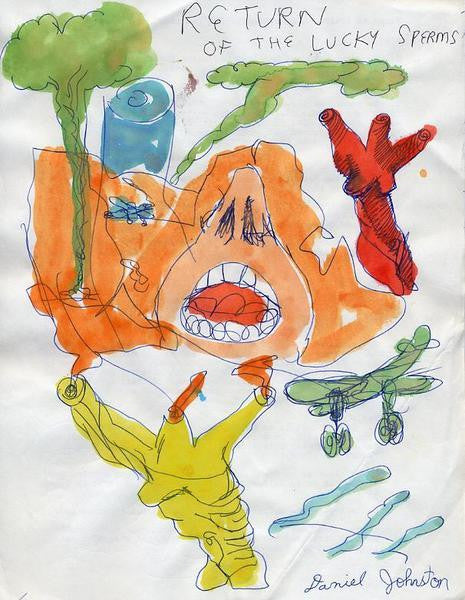 DANIEL JOHNSTON - "Lucky Sperm"
8 1/2" by 11" Watercolor and Ink drawing on white paper from the early 80's. The work is in very good condition!Signed by Daniel, COA will be provided The award-winning documentary "The Devil and Daniel Johnston", a property of Sony Pictures Classics, opened to rave reviews on March 31st 2006, in both NY and LA. Running concurrently with the opening of the film was a major show of Daniel's artwork at a prominent NY gallery and a collection of Daniel's work at the Whitney Museum's Biennial exhibit!
Much has also been written about the music of Daniel Johnston. And there is good reason; Daniel is one of the greatest songwriters of this or any other generation. Daniel's been playing his intensely unique songs since he was a young teenager and garnering fans all over the world, including such notables as Kurt Cobain, David Bowie, Pete Townshend, Matt Groening (creator of "The Simpsons"), Jad Fair, Lou Reed and Maureen Tucker. Unfortunately, much less has been written about his artwork. That, however, is beginning to change. Over the last few years, Daniel's drawings are showing in larger and larger galleries and prices for his work are climbing steadily higher. What is astounding about Daniel's work is the fact that he is an absolute unending wellspring of creativity, the likes of which I have never witnessed before. No creative blocks here… what he thinks and feels gushes out on to the paper, or into a song. But, perhaps the most incredible part of the story is that all of the superlatives that have been used in describing how wonderful his music is can also be used for his artwork. There may be one other artist in history who has so excelled in two such diverse artistic fields: visual art and music.
About the Artist
Chris Johanson