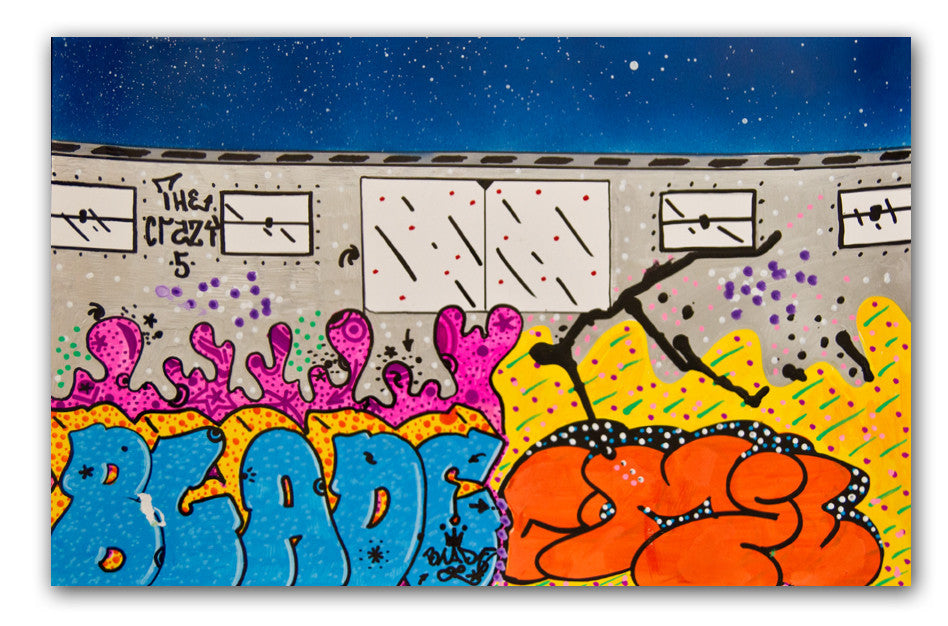 COMET -BLADE - Collaborative Painting#1
COMET/ BLADE - "Untitled #1" Collaborative painting,  Acrylic & Paint Marker on photographic paper. Measures 17"x 11". 
Like many graffiti writers, John "COMET" Russo began painting subway trains at a very young age. COMET was one of the early writers and starting back in 1971 when graffiti was in its infancy. COMET along with others paved the way for other writers of that era and gave the graffiti community a solid foundation to build on. During his run on the trains, he had 4 talented and artistic partners, "SILVER TIPS", "BILLY 167", "CLIFF 159" AND OF COURSE "BLADE 1". COMET and BLADE took over the #2 and #5 train lines back in 1974. Their reign as kings lasted for 7 years up till 1981. No other writer ever held these train lines that long.They were true kings. At the age of 50, COMET returned to his passion once again, and turned to the canvas to start his new battle above ground.
BLADE
King Master visionary! Blade is more than a graffiti artist. A remarkable pivotal figure in the history of graffiti Blade's successes as a graffiti artist are myriad.Blade's artwork has been extensively collected & exhibited for over 25years & has participated in over 75 select solo group gallery exhibitions throughout the world! Blade has also been involved in in numerous symposiums, appeared in hundreds of articles, television features, magazine/ journal publications & catalogues. 
At the forefront of the subway graffiti art movement in the early 70s, Blade's work is not only recognized as significantly influential, but his lengthy career as a professional artist has warranted worldwide notoriety & fame. Painting over 5000 trains & evolving to new levels of subway & canvas graffiti Blade has had exhibitions at the Whitney museum(2000) Cleveland's Rock n Roll Hall of Fame (2000) A 1991 show at The Musse National De Monuments Francais (Paris France) numerous shows at the Groniger Museum, and dozens of shows in Europe & Asia.On October 28,1994,Blade was invited to the Groniger museum to meet the Queen of England, as she was attending the prestigious institustion's re-opening. 
About the Artist
COMET