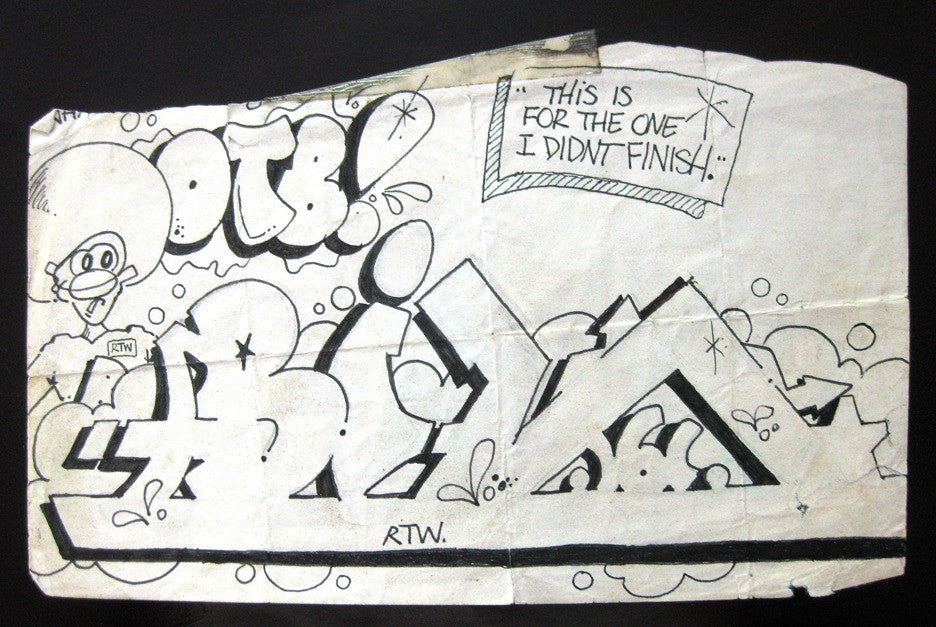 BILROCK RTW - "Piecebook Drawing" 1979
BILROCK RTW  -  "Piecebook Drawing"  1979  Ink on Paper. Size is 8.25x5. Accomplished in 1979.
This piece went to the yard (Pitkin Ave) in 1979 twice. The first time the piece was unfinished as they pulled the train from Bilrock.
BILROCK-161 aka. Charles "Billy" Harmon
Born in New York City in 1962, and raised on the Upper Westside. Attended Brandeis HS., Westside HS., and CUNY John Jay College. Briefly studied at School of Visual Arts, and the Art Students League, NYC.
In 1974 began writing the name, SAGE as a young member of the famed Soul Artists graffiti crew. The Soul Artists was led by neighborhood friend, ALI-105( aka. Marc Edmonds). In 1976 BILROCK founded The Rolling Thunder Writers(RTW) which went on to become one of the most prolific, and famous of all the New York City graffiti crews. RTW was famous for their colorful, experimental palette which had obvious psychedelic origins. RTW membership included some of the greatest graffiti artists such as, REVOLT, ZEPHYR, MIN-1, QUIK, PADE, CRUNCH, and HAZE. By 1980 BILROCK had taken the RTW crew from being a Broadway crew to all-city status on nearly every line in the NYC subway system.
By 1983 he stopped his graffiti career and concentrated on painting canvases. Originally his style combined abstract surrealism with a comic/pop art style. Influenced greatly by 1960's psychedelic culture, and Op art as well as underground comics. It has since morphed into a very psychedelic-Pop style which merges graffiti, comics, and the occasional dose of politics. BILROCK went through a 16 year period of painting nothing due to a growing drug addiction. In 2005 after the death of his father, Jazz musician Charlie Harmon, he underwent an experimental treatment with the controversial psychedelic, Ibogaine. Ibogaines natural healing and anti-addicitve qualities freed him from drug addicition. He began painting again almost immediately and has been doing so ever since.
Work featured in Charlie and John Ahearns Times Square show, NYC. 1980, Esses Studio Collection 1980, Subway graffiti photographs by Henry Chalfant at O.K.Harris , NYC. 1980, Zahra Studio Gallery, Beacon, NY. 2008, Center for the New media Arts, Bethel, CT. 2009, Dream In Plastic, Beacon, NY. 2010, Puppets Jazz Bar, NYC. 2010.
Publications: Subway Art the 25th Anniversary Edition, The History of American Graffiti, Piecebook: The secret drawings of graffiti writers, Renegades of Funk, The Nasty Terrible Tkid-170, Stress Magazine, Juxtapos Magazine, Skills Magazine
About the Artist
Bilrock