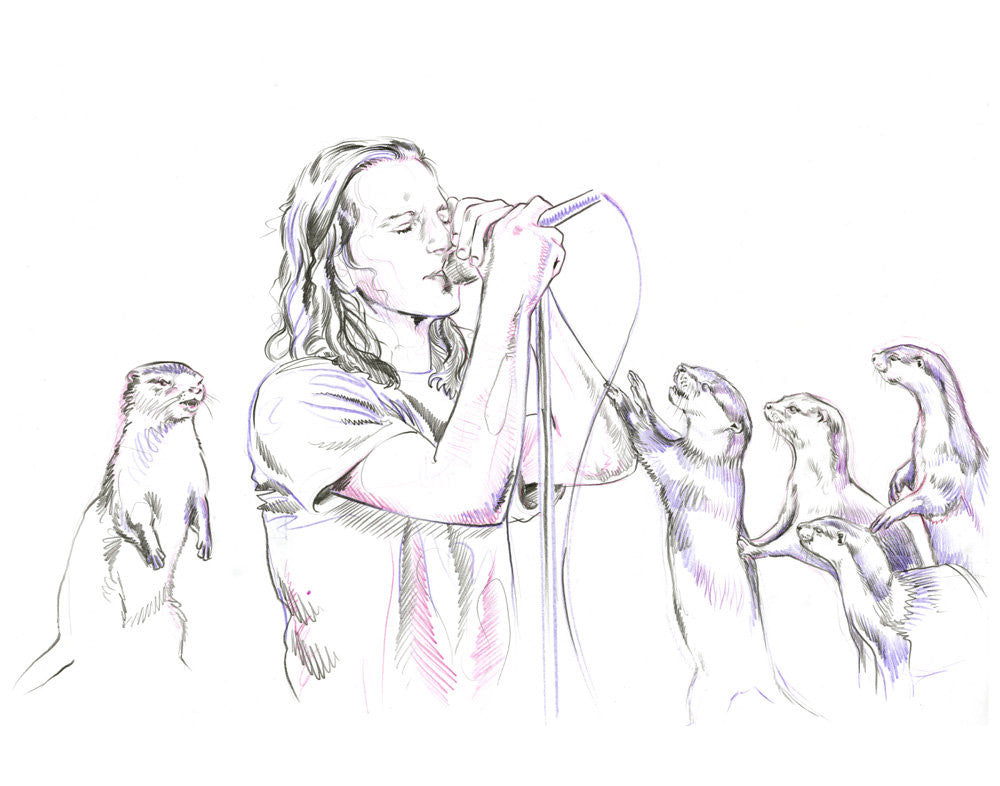 AIYANA UDESEN - Eddie Vedder and Otters
AIYANA UDESEN – "Eddie Vedder and Otters" Colored Pencils on Bristol Board. Measures 9"x 12" signed Aiyana verso.
DirtyPilot.com is thrilled to announce a collaborative exhibition from Future Colors of America. Founders, artists and friends Albert Reyes, Matt Furie, and Aiyana Udesen put together a kick ass show featuring a new body of collaborative work that will blow you away.
Albert Reyes is a Los Angeles-based San Francisco Art Institute graduate who has developed a style equally influenced by graffiti, comics, and fine art. Among other media, he draws and prints on the inside covers of old books and mixes traditional Mexican imagery, popular culture icons, and political suggestion.
Aiyana Udesen went to school at the San Francisco Art Institute with Reyes, and lives in San Francisco, where she gained attention for her "how-to-draw" series of zines, many of which have married her interests in celebrities, animals, and realistic-yet-stylish illustration.
Matt Furie, a San Francisco-based artist whose richly detailed, hyper colored illustrations and paintings reflect the creative cross breeding of The Neverending Story, unrestrained imagination of The Muppet Show, and humor of ALF. His corruption by popular culture is further complicated, or perhaps enriched by the energy of BMX culture and anarchy of street 
About the Artist
Future Colors of America