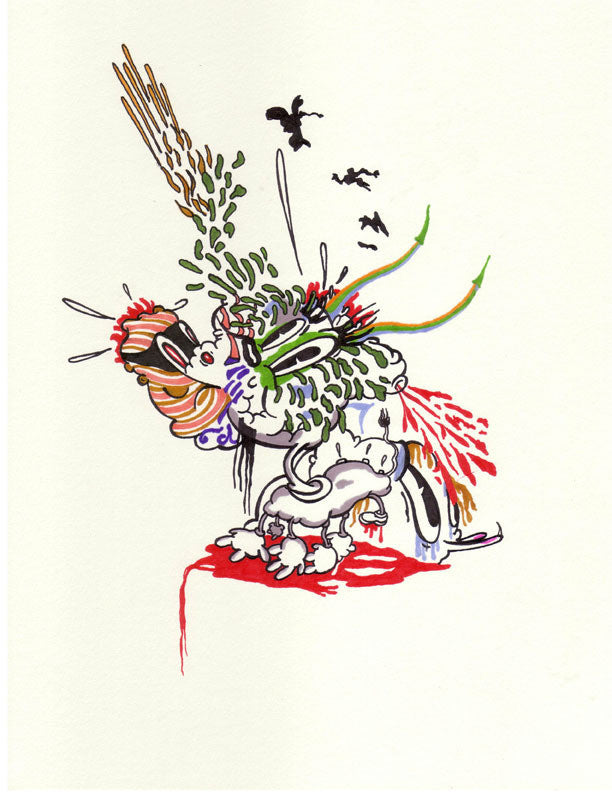 STEPHEN TOMPKINS - "Miniscule Catharsis"
STEPHEN TOMPKINS - "Miniscule Catharsis" Color ink on paper, size 8.5×11, 2007. Signed verso.
Stephen Tompkins' new series of drawings, "The New Spawns of Babylon" are a continuation of his obsessive drawing style, alluding to the uninhibited and automatic style of an outsider. His idiosyncratic deconstructed cartoon combustions in this selection are hand drawn while others employ a unique process of drawing, photographing, digitally rendering, then again, intermingling more ink with these digitally composed 'accidental discoveries'.
Stephen Tompkins work has been exhibited throughout the US and in many cities in Europe. His work has appeared in Raw Vision, Juxtapoz, New American Paintings.
His work will be exhibited this Fall at the Red Dot Art Fair in Miami and in his upcoming two-man show with Bill Dunlap, "Futurology", in San Francisco. His work is scheduled for a solo show in London in Spring 2008.
About the Artist
Stephen Tompkins