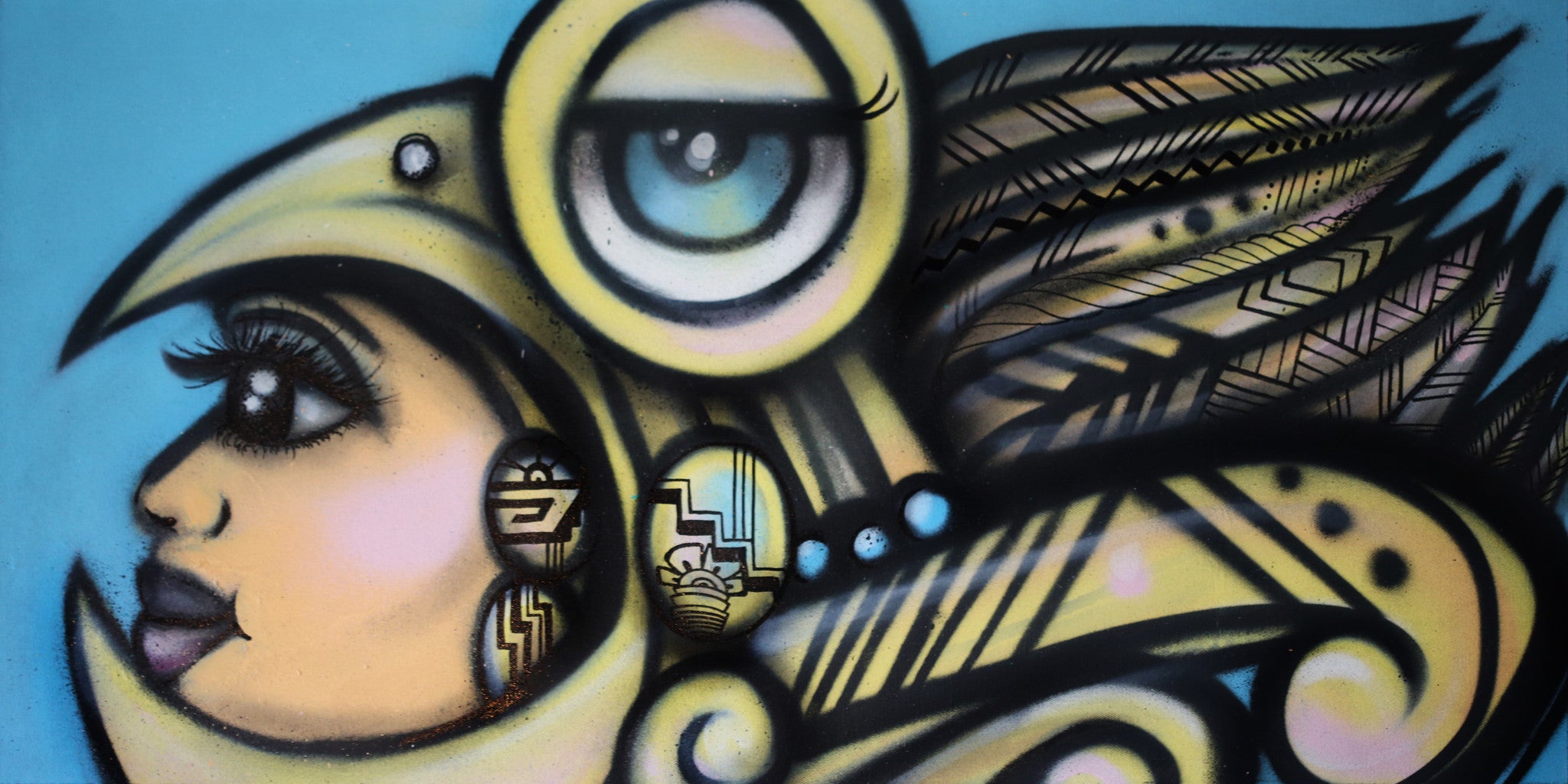 AGANA" VayaPues" Painting
AGANA" VayaPues" Painting. Aerosol ov canvas. Measures 18' x 36".
AGANA
Vanessa Espinoza is DJ AGANA: a multi-talented aerosol artist and digital audiovisual specialist with a background in jewelry metal arts. Taken from a loose translation of the Spanish con ganas, Agana's work exemplifies motivation, drive, desire and the ambition to hungrily accomplish any task.
 As an aerosol artist, Agana belongs to the earliest known graffiti crew in the history of aerosol art, the Ex-Vandals, established in NYC in the 1970's. She is also a member of The Dream Krew,TDK, an Oakland-based graffiti crew founded during the early 80's by the prolific artist Mike Francisco Dream. In 2013 Agana paid homage to Mike Dream's legacy by painting in his name for the submission in the Estria Invitational Graffiti Battle.
 As a member of Few and Far Women, Agana beautifies streets with large scale murals rooted in creativity and social justice from a female perspective. Her work can be found in public spaces throughout the Bay Area, California, and the Wynwood Art District of Miami, and in large-scale international murals in Paris (France), Dakar (Senegal), Barcelona (Spain), Geneva (Switzerland), Maracay (Venezuela), Oaxaca and Tijuana (Mexico).
Employing art as action and advocacy, Agana has worked on various environmental justice murals such as Water Writes, an international series of collaborative murals connecting grassroots community struggles to critical local water issues to raise awareness and inspire a movement towards access to clean water for all.
For over a decade Agana has disseminated her rich knowledge of digital media and creative arts with young Bay Area artists, encouraging them to tell their own unique stories through mural painting, film and animation.
Agana's goal is to reach endless audiences with visual landscapes that cultivate art for thought and action while bringing visibility to current issues and topics that tell untold stories from a female perspective of resilience.
About the Artist
AGANA