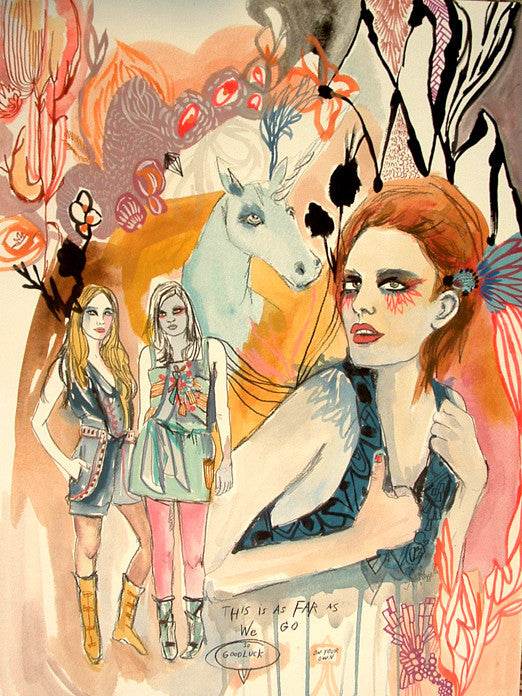 KIME BUZZELLI -"As Far As We Go"
Kime Buzzelli
This Is As Far As We Go, 2007
Watercolor, Ink, China Marker, Acrylic on Paper
20" x 24" Signed and Titled
Born and raised outside of Cleveland, Ohio, Kime Buzzelli found early inspiration in her collection of "paper dolls," constantly creating costumes and dramas for them.When she began painting, this "narrative" of fashion informed her work, painting women with a dialogue designed from an addiction to clothing. This is the basis of Buzzelli's work today. Known for her paintings of wayward nymphs, broken-hearted waifs and androgynous party girls, Kime explores the pain, joy, and integration of fashion in the feminine psyche. After studying fashion illustration at Parson's School of Design in New York, Buzzelli earned two degrees in painting and art education from Ohio State University.
Since then, Kime has been exhibiting her work throughout the world in such esteemed galleries as the New Image Art Gallery, 222 Gallery, Erotic Art Museum, Spring Street Gallery, the Deitch Gallery and the Rocket Gallery in Tokyo. She was chosen for the GEN ART Emerging Young Artist Show at Track 16 Gallery. Her fashion art installations have been shown in ISA in Brooklyn, the Nike House in Venice, Screaming Mimi's and Albertine in NYC.Her art has been featured in dozens of publications including Elle, Visionaire, The FACE, Dazed and Confused, I-D, Nylon, Lucky, BUST Juxtapoz, W, Cosmopolitan/CosmoGirl, Paper, URB, BPM, XLR8R, Re-Up, Flaunt, Apparel News, the Los Angeles Times and Italian Fashion News among many others.
Her work can be seen in the books Fashion Illustration Next by Laird Borrelli, Fashion Now I-D, and the upcoming Vintage LA.In 2000 Kime founded her flagship boutique and clothing line, Show Pony. Her one of a kind designs have been worn in photo shoots, films, and music videos by such celebrities as Lindsey Lohan, Shakira, Milla Jovovich, Jewel, Pink, Vanessa Carlton, Jane's Addiction, Belle & Sebastian, Maggie Gyllenhaal, Nelly Furtado, Kate Bosworth, J Lo.
BACK TO DIRTY PILOT
Prev
/
Next

About the Artist
Kime Buzzelli