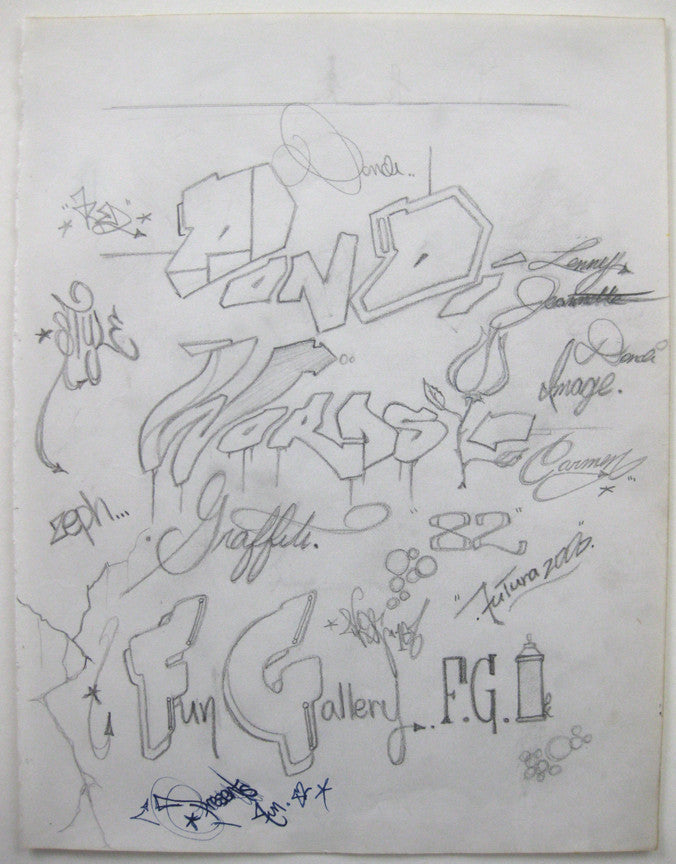 Dondi White - "Fun Gallery - Words" 1982
Dondi White – "Fun Gallery- Words"Graphite on art paper.
Paper measures 8.375x10.75 " Comes Framed and dated in ink lower left.                                                  In overall In Great condition.  An extremely historical and significant piece by legendary DONDI WHITE
Come with a Certificate from the Dondi White estate.
DEFYING LOGIC
"Roaming around storage areas are often where I often spend my days, and where I have made many of my best personal discoveries. It was in the archives of the Museum of the City of New York that I first came across the treasure trove of black books that came to be featured in the recent exhibition and companion publication City as Canvas.
When Dirty Pilot asked me to look around their virtual "back pages" to look for a selection of overlooked gems, I gladly accepted. What is better than the thrill of the hunt? The results are a selection of work from the "back room" that are exceptional pieces by some of the masters of this art form – be it the iconic tag of TAKI 183, the psychedelic bubble stylings of PART ONE, or the comic book influenced spray can man and "Jack Kirby krackle" of DR. REVOLT, 
Regardless of whether these treasures are created with pens, markers, paint, or spray paint, the common thread is lettering. It was the origin and will always be at the heart of this particular art form.
My treasure hunt is now yours to enjoy. Make a few discoveries of you own."
Sean Corcoran, Curator at Museum of the City of New York
More about the show at MCNY - http://www.mcny.org/content/city-canvas
About the Artist
Dondi White